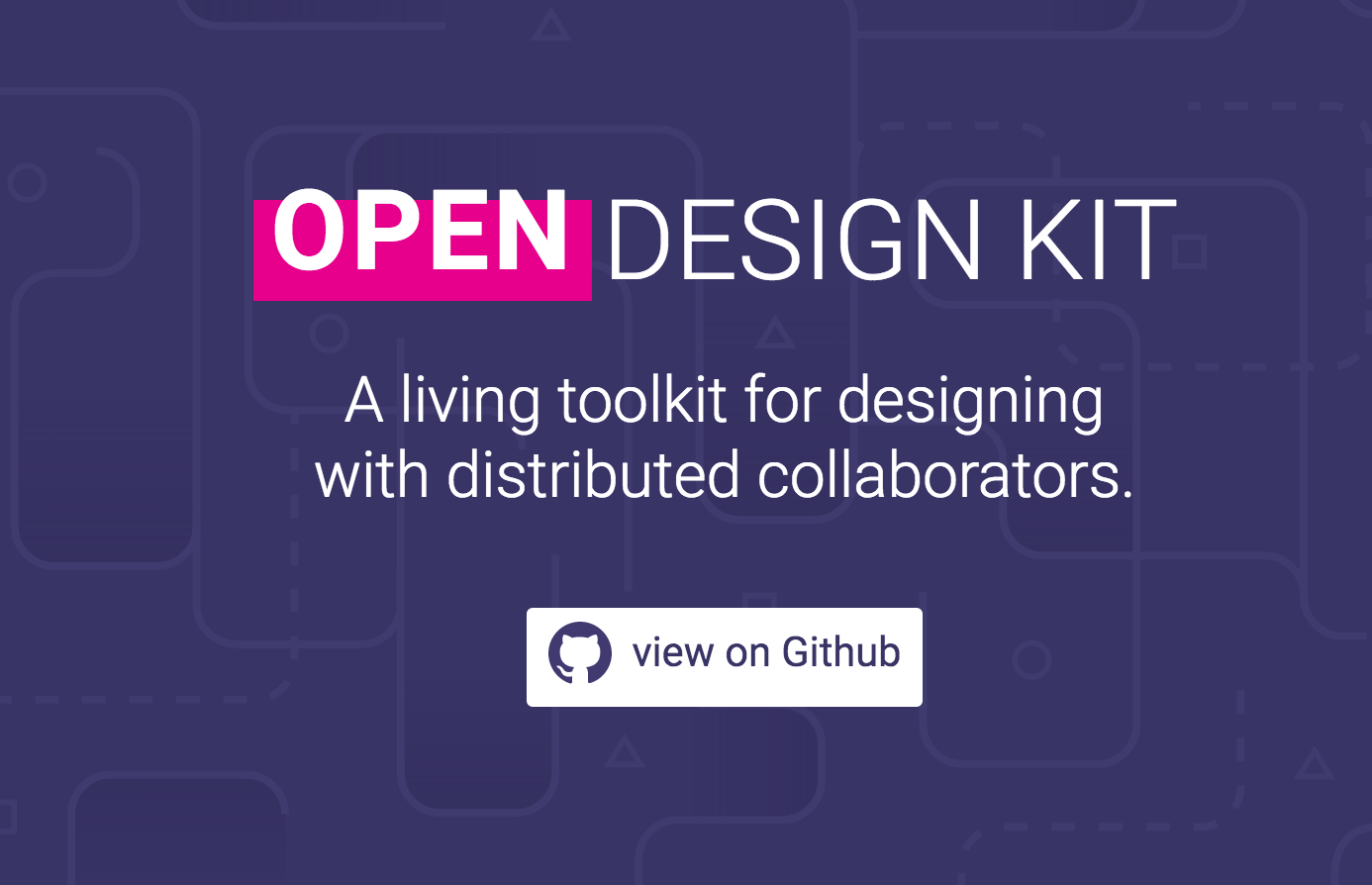 Today, we are pleased to announce Open Design Kit – a collection of remixable methods designed to support creativity and problem solving within the context of the agile and distributed 21st century workplace. We are creating this kit to share the techniques we use within our open design practice at Bocoup and teach to collaborators so they can identify and address design opportunities. As of the publication of this post, the kit can be accessed in a GitHub repository and it contains a dozen methods developed by fifteen contributors – designers, educators, developers from in and outside of Bocoup.
Design literacy needs to be constantly developed and improved throughout the software and product development industry. Designers must constantly level up their skillsets with lifelong learning. Engineers often need to learn how to collaborate and incorporate new practices into their workflow to successfully support the integration of design.
Clients and stakeholders are repeatedly challenged by the fact that design is a verb that needs constant attention and not a noun that is handed off.
To address this, Bocoup is openly compiling a suite of learning materials, methods, and systems to help our staff, clients, colleagues, and community better understand how we design and when to roll up their sleeves and get in on the action. It is our hope that this exploration will be useful for other companies and individuals to incorporate into their practice.
So here's why does the world need another compilation of tools?:
To establish what it means to design in the open, with practical methods designed for distributed collaborators.
To provide a framework for design thinking and conversations within open source development.
To share open educational resources to support design literacy
Optimized for Distributed Teams
Each method of the kit is designed with distributed teams in mind. We did this because we believe that diverse products require diverse teams. To make a diverse team, you can't rely on having that collaborator in the same room as you – let alone neighborhood or country! The methods here leverage digital tools such as chat, note-taking documents and screen sharing software to leverage the connected world that we live in.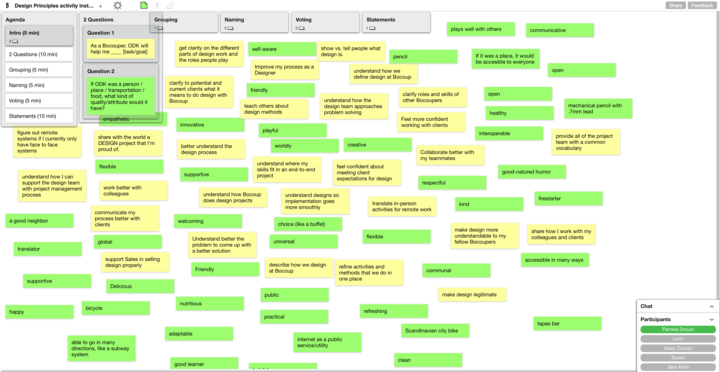 Open Design Values and Principles
"Open design" is a term that refers to participatory and transparent methods for identifying and addressing a problem space with and for a group of people. These practices make software design and development economical and agile to iterate upon, and are most successful when the entire product team is able to embrace them. The open way we practice design at Bocoup is different from a traditional client-designer relationship, so we've been working on a set of tools to document our process.
The Bocoup open design values and principles guided the kit's creation. As we design projects and products at Bocoup, with and for our clients, we identify certain attributes that inform our work. They empower Bocoup and our clients to filter opportunities, make challenging design decisions and ultimately define success because they are value oriented. Values are non-negotiable and require enduring collective action. In design values and principles, we identified these core values, how we work with them and practically speaking, how might we incorporate them on a day to day basis into our workflow. We developed them using a workshop that you can replicate because we documented it as a method in the kit.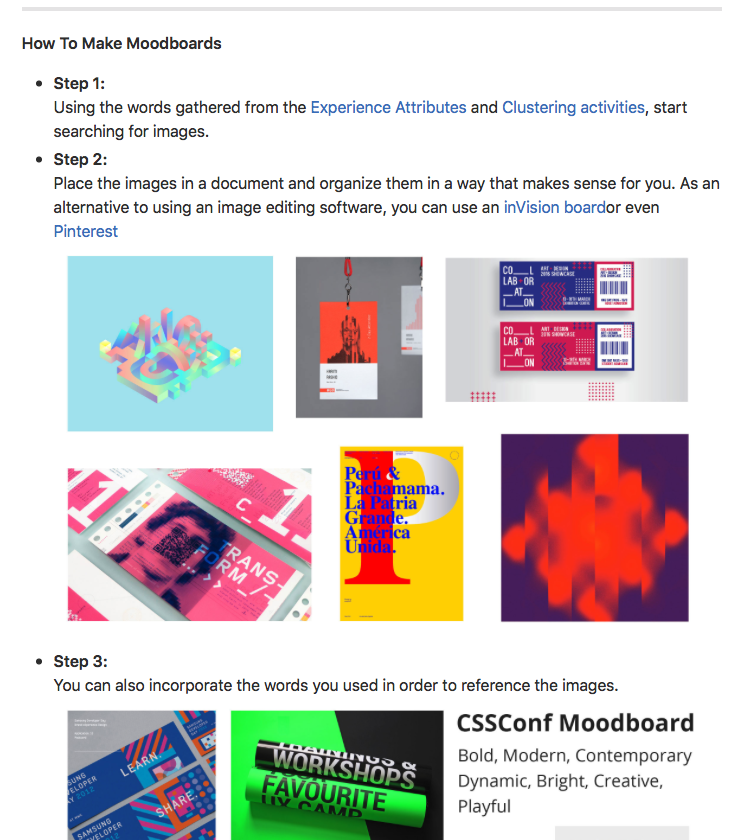 Designing Open
We use the word "open" a whole lot. What do we mean when we say it and why are we advocating for it specifically in relationship to design? Open is defined in so many different ways.
Mozilla created a manifesto to describe open principles impacting their work and mission, clearly touting values such as interoperability, transparency, and collaboration.
Creative Commons is committed to "keeping the internet creative, free and open."
Jefferey Pomerantz and Robin Peek recently wrote Fifty Shades of Open to explore the complex nature and historical context of the terminology of open.
Open is a loaded term, but one that we stand behind at Bocoup because it implies access. We believe that educational and instructive resources will advance the design discipline and forward progress of software development and therefore should be freely and easily available. Open design, in turn, shifts from being a mere practice to a movement. It's a political and ethical decision to say that we believe our design, communication and implementation methods should be accessed by all.
In 2013 Garth Braithwaite, Product Designer and Front End Developer at Adobe and Founder of the Open Design Foundation wrote a manifesto for open design principles. This is what he came up with: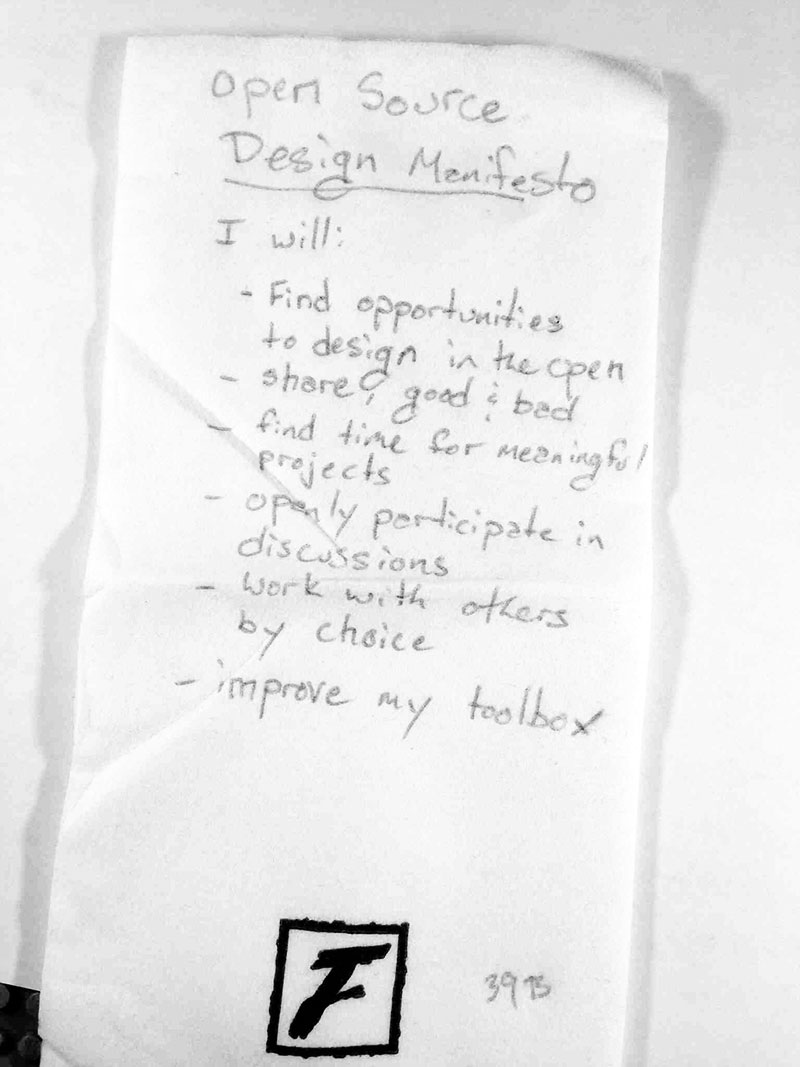 Ownership through transparency into your process is implicit in this manifesto. When you share your designs with a collaborator – any kind of collaborator – you are asking them to have empathy and share the responsibility of addressing the opportunity that you are attempting to solve. This act can be an empowering and impactful form of communication.
How to get involved
This project is being conceived of and implemented as an open source project. We are working on the toolkit in a public GitHub repo. We'll soon be moving the methods to the opendesignkit.org website so that they can be accessed with more ease. If you have questions, thoughts or ideas about how the kit might be improved, the GitHub repo is the best place to contribute to the conversation.
We look forward to hearing about how Open Design kit is being used in the real world to solve problems and drive collaboration. Tweet us the next time you try one of the techniques in the kit with your team!