Bocoup, being enormously generous, gave me this week off to work on the open source project Popcorn.js at Mozilla, Toronto. Popcorn.js is sponsored by Web Made Movies, Mozilla's Open Video Lab, a Mozilla Drumbeat project. Popcorn will allow film makers to do a lot of cool stuff with html5 <video> such as adding credits, subtitles, and extensive social media integration.
Popcorn.js version 0.1 releases next week, and will be shown at the 2010 Mozilla Summit. Here's some pictures of what we have so far:
Social information such as Flickr images, Twitter feeds, and maps of the person being displayed are constantly updated to the viewer.
I spent the day today building interactive credits to be displayed over the video once it has finished playing. The panels slide out form eachother using jQuery.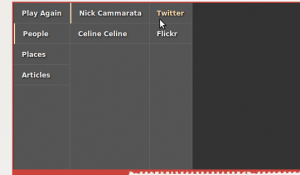 Popcorn.js currently consists of Seneca students Anna, Scott, Daniel, Professor David Humphrey, and director Brett Gaylor. If you want to contribute to Popcorn, say hi at irc.mozilla.org/popcorn.