Much like the rest of the country, we've been mesmerized by the election and the coverage surrounding it. This election, more than any previous, has spurred conversations and challenges previously unseen, raising questions around political discourse and campaigning nationwide. We've been thinking a lot about those very questions, especially in the coming crescendo of election day itself. How will We The People feel when the results are in?
Building an Open Source interactive with the Coral Project
To attempt to capture this time-capsule of emotion we have been working on an exciting new project in collaboration with the Coral Project.
The Coral Project improves the ways that journalists and communities engage on news websites by building free, open-source tools for publishers of all sizes. We joined forces to build an interactive experience for online news publications across the country that will let readers reflect on their own experience and feelings as the election draws to a close. You can read more about our work in this Washington Post press release.
An Open Source Interactive
So what did we do? We built an open source interactive designed to be easily embedded by news organizations. It enables readers to answer a few basic questions about how they are feeling, what topics the next president should focus on improving, and what message they would like to send to the president-elect, then visualizes the results. We chose to use emoji as a mechanism for capturing people's sentiment given their prevalence in our modern culture, and their ability to capture a feeling without the use of language. We recognize that our country is diverse in age and race, and are hoping emoji will allow us to transcend the barriers language puts upon us.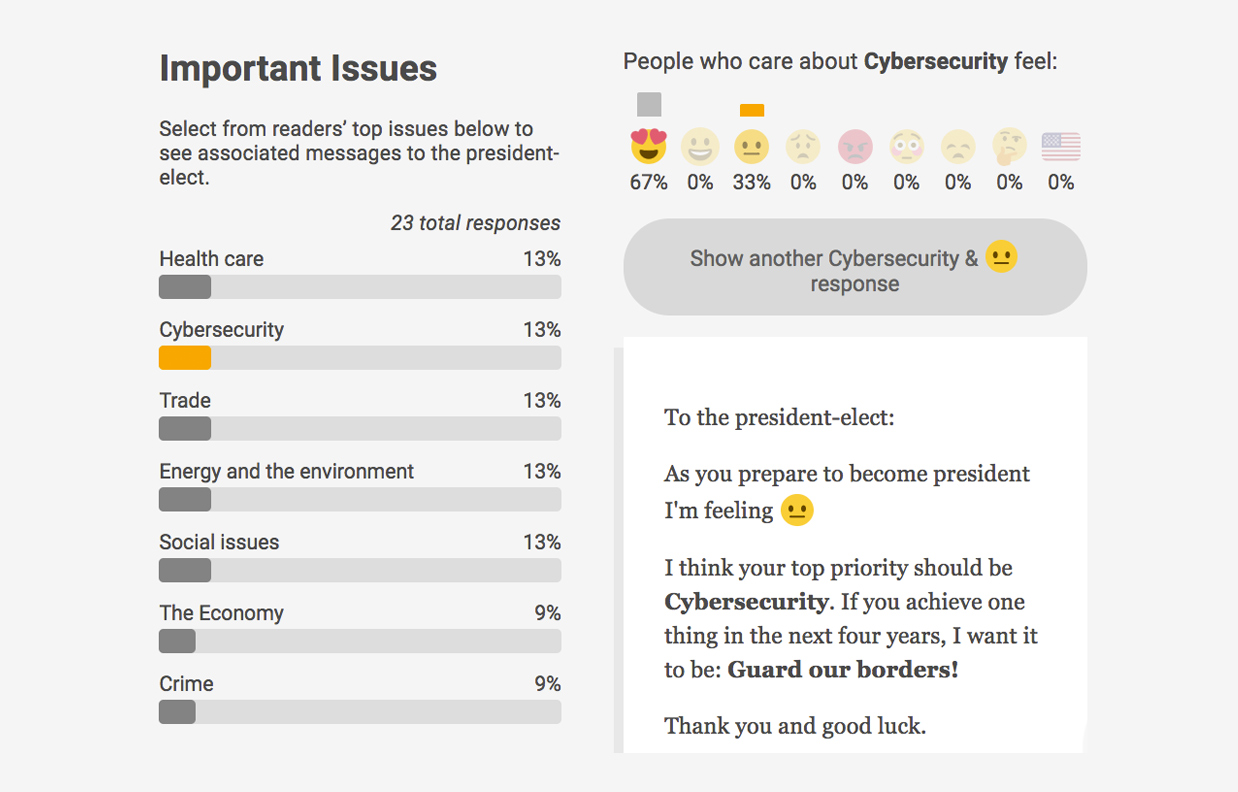 Design Challenge
At Bocoup, our user-centered visualization design process puts the target audience of our work in the spotlight. Given the diversity of people interested in the election, we worked hard to ensure the interactive would perform well no matter where it was accessed from. As a result, it supports a wide array of browsers, screen sizes, mobile and tablet screens and even screen readers. We want to hear everyone's voice and we hope this interactive provides an outlet for everyone to speak.
What's next
This interactive is meant to be published the day after the election. We are working hard to get it embedded with news organizations that are interested in hosting it. It is incredibly simple to deploy and we are here to help make it happen. If you or your organization are interested in embedding this interactive on your website, you can do so yourself or you can get in touch for help. The code for the interactive can be found on Github here along with installation instructions for the Ask platform.